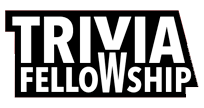 General Trivia Quiz
Question 1 of 10
Glaive, Halberd, and Dagger are types of which item?
Question 2 of 10
Who lives in the Apostolic Palace?
Question 3 of 10
In which European city is the International Court of Justice?
Question 4 of 10
What is the name of Amazon's paid-for quick delivery service?
Question 5 of 10
In grammar, what is the name for a verb indicating time?
Question 6 of 10
CWL is the international airport code for which city?
Question 7 of 10
In Greek mythology, who fell in love with his own reflection?
Question 8 of 10
The Périphérique is the ring road around which major city?
Question 9 of 10
A common feature of towns in Middle East and North Africa what is a souq?
Question 10 of 10
Peanut M&Ms come in which colour of bag?