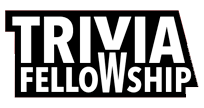 Movie Quiz
Question 1 of 10
Which actor played Indiana Jones in Raiders of the Lost Ark?
Question 2 of 10
Hopelessly Devoted To You and You're The One That I Want are songs from which movie soundtrack?
Question 3 of 10
What line does Arnold Schwarzenegger famously say as The Terminator?
Question 4 of 10
Which 2012 film directed by Ang Lee is about a boy trapped on a boat with a Bengal tiger?
Question 5 of 10
Who plays Lara Croft in the 2001 film Lara Croft: Tomb Raider and its sequel?
Question 6 of 10
Which film is the quote "You had me at hello" from?
Question 7 of 10
Who plays Mary in There's Something About Mary?
Question 8 of 10
Which criminal does Johnny Depp play in the 2009 film Public Enemies?
Question 9 of 10
In which country is the second Rescuers film set?
Question 10 of 10
What is the name of Han Solo's ship in Star Wars?