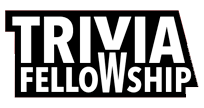 Movie Quiz
Question 1 of 10
Who plays Agent Jay in the Men in Black films?
Question 2 of 10
Who plays Jason Bourne in the Bourne film series?
Question 3 of 10
Who voices Donkey in the Shrek movies?
Question 4 of 10
Which British actor appeared in Time Bandits, Clockwise, A Fish Called Wanda and Fierce Creatures?
Question 5 of 10
Who plays the title roles in the films Sully, Larry Crowne and Captain Phillips?
Question 6 of 10
Name the 2002 musical starring Renee Zellweger, Catherine Zeta-Jones and Richard Gere.
Question 7 of 10
Which film is the 2019 film 'Child's Play' a remake of?
Question 8 of 10
What is the name of the newly crowned Queen in Frozen?
Question 9 of 10
Who plays the lead role of Johnny Blaze/Ghost Rider in the 2007 film Ghost Rider?
Question 10 of 10
Who stars with Robin Williams in the 1997 comedy Fathers' Day?