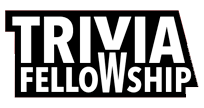 10 general trivia questions mixed up
Question 1 of 10
What has only 1 eye?
Question 2 of 10
Which of these games is made up of wooden blocks?
Question 3 of 10
A hydrotherapy spa treatment will involve which of the following?
Question 4 of 10
Which of the following is used to colour eyelashes?
Question 5 of 10
If a person has the letters F.R.C.V.S. after his name, what is his profession?
Question 6 of 10
What is the name of Paul McCartney's fashion designer daughter?
Question 7 of 10
What is the main language of Israel?
Question 8 of 10
Which 'F' does a dactylographer study?
Question 9 of 10
What is the name of the mythical war during which 'The Iliad' is set?
Question 10 of 10
Which Palestinian won the Nobel Peace Prize in 1994 for improving Israeli relationships?